One Belt, One Road – A brilliant plan
|
Xi Jinping's ambitious strategic initiative – an adaptation of the historical Silk Road – could sow the seeds for a new geopolitical era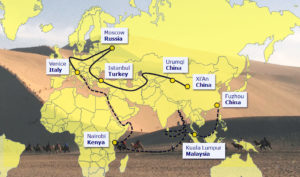 A new economic paradigm emerges
At the heart of One Belt, One Road lies the creation of an economic land belt that includes countries on the original Silk Road through Central Asia, West Asia, the Middle East and Europe, as well as a maritime road that links China's port facilities with the African coast, pushing up through the Suez Canal into the Mediterranean.
The project aims to redirect the country's domestic overcapacity and capital for regional infrastructure development to improve trade and relations with Asean, Central Asian and European countries.
If you are from Italy, Turkey and Russia who want to market your product & service to China Hong Kong, we will give you professional advice for free.